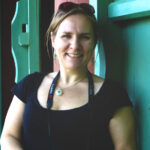 Stephanie Balkwill is an Assistant Professor of Religion and Culture and East Asian Languages and Cultures at the University of Winnipeg. Her work focuses on the social, literary, and political lives of Buddhist women who lived in China between the fourth and sixth centuries. She is currently working on a biography of a 6th-century Empress Dowager, a study of the Buddhist idea of female-to-male sex change in Chinese Buddhist texts, and a co-edited volume entitled "Buddhism and Statecraft in East Asia."
Dr. Balkwill completed her Ph.D. in Buddhist Studies and Chinese Religions at McMaster University where she also earned a graduate diploma in Gender Studies and Feminist Research. She has been a fellow at the Center for Chinese Studies at the National Central Library of Taiwan, an advanced researcher in the Department of Philosophy at Peking University, a Robert H. N. Ho Family Foundation in Buddhist Studies Doctoral Fellow, and a postdoctoral fellow in the Society of Fellows at the University of Southern California. Her research has also been supported by the Social Sciences and Humanities Research Council of Canada, the American Council of Learned Societies and the Chiang-ching Kuo Foundation for International Scholarly exchange.
This lecture is free and open to the public. Registration is now closed.
Sponsored by Tianzhu Global Network for the Study of Buddhist Cultures with administrative support from FROGBEAR.