Click here return to Visiting Professors page
July 2018 – January 2019. Chen Long (Xinzhou Teachers University)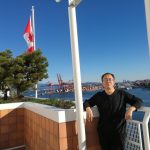 Chen Long, PhD. is an Associate Professor, and Master Instructor, and was named a "Young and middle-aged top creative talent" of Xinzhou Teachers University. teaches courses such as "History of Chinese Literature", "Academic Writing", and "Religion and Medieval Literature", and is mainly engaged in the study of ancient Chinese literature and religions. He has published more than 20 academic papers, in the "literary heritage", "Chinese Cultural Studies", "Lu Xun Research Monthly" and other periodicals, and has published one professional academic book. Dr. Chen has hosted over five provincial and ministerial research projects, and has participated in two major research projects.
While visiting UBC, Prof. Chen Long delivered a lecture titled "The initial rise of Manjusri belief: centered on the "three biographies of Qing Liang mountain".
---
November 2018. Tang Zhongmao (East China Normal University)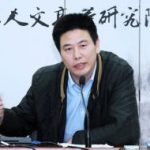 Prof. Tang Zhongmao is currently a professor and doctoral supervisor in the School of Social Development at East China Normal University. He also serves as the copy editor of Journal of East China Normal University (Philosophy and Social Science) and the Deputy Director of Center for Social and Religious Research of East China Normal University. He received his doctorate in philosophy at East China Normal University and finished postdoctoral study in the Institute of Chinese Historical Geography at Fudan University. His main research areas are Buddhism, Religious Folklore, and Sociology of Religion. Prof. Tang associates himself widely with academic institutions, serving as the council member on the Chinese Association for Religious Studies, the council member and vice-secretary of Shanghai Association of Religion Studies, and the vice-chairman of Shanghai Zhao Puchu Research Institute. He has published 5 monographs and more than 40 academic papers including佛教本覺思想論爭的現代性考察 (Debate on Buddhism Original Enlightenment Thought in Modernity, 2006),中國佛教近代轉型的社會之維 (The Social Dimension of Chinese Buddhism's Transformation in Modern Times, 2013), and經卷遺存:長江流域民俗文化與藝術遺存 (The Remaining Scriptures: The Folk Culture and Art Remaining in Yangtze River Basin, 2013).
While visiting UBC, Prof. Tang Zhongmao delivered a lecture titled "The Life-world of Chinese Buddhism: Temple-Town Relationship and Everyday Life in the Area South of the Yangtze River".
---
April-December 2018. Tang Jia (Chinese National Academy of Arts)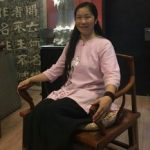 Jia TANG 唐嘉, PhD. Renmin University of China (2010); Postdoctoral Fellow, School of Chinese Language and Literature, Beijing Normal University(2010-2013); Research Associate, Chinese National Academy of Arts (2013-). Her previously published books include A Study of Buddhist Nuns' beliefs During the Dong-Jin, Song, Qi, Liang and Chen Dynasties東晉宋齊梁陳比丘尼研究( Sichuan: Bashu Press巴蜀書社, 2011), Buddhist Women in the Wei, Jin, Southern and Northern Dynasties 魏晉南北朝女性佛教信仰研究(Co-authored with Luping Wang, Beijing: CITIC Publishing House中信出版社, 2017), and An Essential Study of Buddhist Ge-yi: Taking Daśasahasrika-Prajñāpāramitā Sūtra as an Example《道行般若經》"格義"研究 (Beijing: Shidaihuawen Press時代華文書局, 2018). Dr. Tang works primarily in the area of medieval Chinese Buddhism, Chinese philosophy, Chinese literature , Buddhist literature studies, gender studies.
While visiting UBC, Tang Jia delivered a lecture titled "What is Buddhist Ge-yi".
---
August 2018. Chen-kuo Lin 林鎮國 (Department of Philosophy, National Chengchi University)

Dr. Chen-kuo Lin 林鎮國 is a Distinguished Professor in both the Department of Philosophy and the Graduate Institute of Religious Studies at National Chengchi University. He earned Ph.D. from Temple University in 1991. His research interest includes Buddhist philosophy (Buddhist logic and epistemology, Mādhyamika, Yogācāra), Chinese philosophy (Neo-Confucianism, Daoism), and comparative philosophy. Dr Lin's research is on the reception of Dignāga's Ālambanaparikṣā during the late Ming and Edo Japan and on Dharmapalā's commentary on Vasubandhu's Viṃśikā. Both are studies in Yogācāra Buddhist philosophy.