We are pleased to announce that the following scholars have received Tianzhu-SSHRC funding to come to UBC. Competitive fellowships were awarded to Maggie Mitchell, an incoming MA, and Xian'ao Wang, an incoming PhD.
The Tianzhu Foundation postdoctoral fellowship was awarded to Dr. Heawon Choi in 2016-17, and she will continue in 2017-18 teaching "Introduction to Buddhism".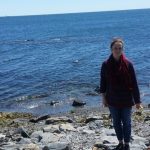 Maggie Mitchell:
Maggie completed her BA in Religious Studies at Mount Allison University in 2016. Her undergraduate research examined a contemporary account of rebuilding of a Chinese Buddhist temple on Wutaishan, looking at the role of both lineage and academia in this practice. She is interested in how Buddhist noncanonical sources from medieval China are used in reconstructing sites in China today. She is also interested more generally in sacred space, East Asian death practices, and using digital sources in the study of religion.