Keynote Lecture: 'Terra Sacra' Imagined – 'Terra Sacra' Visited: Buddhist India in Pre-Modern Sources
A Keynote Lecture for "The Politics and Pathways of Return: Trans-Regional Perspectives on a Buddhist Homeland" Conference at the University of British Columbia
Speaker: Max Deeg (Cardiff University)
When: 5:30 pm–7:00 pm, Friday, June 28, 2019
Venue: UBC, xʷθəθiqətəm or Place of Many Trees (formerly, Liu Multipurpose Room), Liu Institute for Global Issues MAP
This keynote lecture is organized by The Robert H. N. Ho Family Foundation Chair in Buddhism and Contemporary Society, and sponsored by the Tianzhu Network for the Study of Buddhist Cultures.

Abstract:
The recognition of Northern India, more specifically the Eastern Gangetic Plain, as the homeland of Buddhism was the result of an ongoing process of investigation and discoveries under the British Rāj. This paper will look into the making of the Buddhist 'Homeland' in the 19th century and into the entanglement of the "real" and the "imaginaire" not only in the results of scholarly—textual and archaeological—reconstruction of an emerging historical Buddhist India but will also discuss patterns and modes of pre-modern descriptions of the Buddhist sacred land which had an influence, directly or indirectly, on the perception and the reshaping of the Buddhist "Homeland" by Buddhist agents from the end of the 19th century onwards. The main sources investigated will be the Chinese "pilgrim records" so heavily used (and misused) by scholars and Buddhists in this early colonial period of the rediscovery of the Buddhist 'Holy Land'.
About the speaker: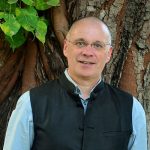 Professor Deeg is a world renown specialist in Buddhist history, especially the spread of Buddhism from India to Central Asia and East Asia. He has a special interest in Buddhist narratives and their role and function for the construction of historical identities in Buddhist communities. His latest monographs to be published will be one on Buddhist foundation myths and a German annotated translation of the Sino Christian inscription of Xi an from the 8th century. He is currently working on a new English translation and an extensive commentary of the Xiyu ji, the Records of the Western Regions, by the Chinese monk Xuanzang (7th century).