Speaker: Li Yu-chen (Taiwan University of Political Science)
When: 2 pm–4 pm, Wednesday, June 12, 2019
Venue: INALCO, Salle 5.08  
Abstract: Forthcoming
About the Speaker: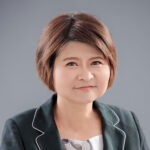 Professor Yu-chen Li 李玉珍 received her Ph.D. degree in 2000 from Cornell University. She is currently the chair of the Graduate Institute of Religious Studies at National Cheng Chi University. Yu-chen Li focuses on gender issues in Buddhism, such as the development of Bhiksuni sangha and Buddhist interaction with local culture through women. Her recent research deals with the conversion process of vegetarian women to Buddhism in 20th century Taiwan and Southeast Asia. Yu-chen Li published numerous works such as The Buddhist Nuns in Tang Dynasty, The Narrative of Sexuality and Desire among Sacred/Ordinary Men and Women, and Buddhism and Women in Postwar Taiwan, as well as  more than 40 papers.        
See the original event page here.  
Download the event poster here.