Click here to return to the main intensive program page.
The occasional lecture series will be presented by highly contributed scholars.
1. A Tale of Buddhist Philosophical Text: The Critical Reception of the Ming Commentaries on Dignāga's Ālamabanaparīkṣā in Tokugawa Japan
Abstract: Inspired by Chinese Buddhist scholar-monks' interest in Dignāga's Investigation of the Percept (Ālamabanaparīkṣa) during the sixteenth and seventeenth centuries, Japanese scholar-monks also composed several commentaries on this epistemological treatise during the Tokugawa era. Unfortunately, these Japanese commentaries are preserved only in manuscript form and have not received the attention of modern scholars. Aiming to complete the historical picture of the reception of Dignāga's Ālamabanaparīkṣa in early modern East Asian Buddhism, this presentation focuses on Kiben's 基辨 (1718-1791) and Kaidō's 快道 (1751-1810) commentaries to examine their analysis of Dignāga's syllogism. According Kuiji 窺基 (632-682), Dignāga composed the first three verses of Ālamabanaparīkṣa in the form of syllogism to refute the various realist theories of atom (paramāṇu). Unfortunately, most of Kuiji's and his contemporary scholars' commentaries were lost in China and therefore not available to the Ming scholars. On the contrary, Xuanzang's Yogācāra heritage remained unbroken in Tokugawa Japan. Not surprisingly, both Kiben and Kaidō criticized the Ming Chinese commentaries for failing to properly understand the text and its logical arguments. This study concludes that both Kiben's and Kaidō's works can be taken as a domestic clue to explain why European critical Buddhist scholarship had firmly taken root in the Meiji era without much resistance.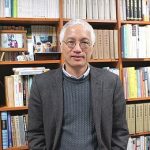 Chen-kuo Lin 林鎮國 (National Chengchi University政治大學)
Chen-kuo Lin is a Distinguished Professor in both the Department of Philosophy and the Graduate Institute of Religious Studies at National Chengchi University. He earned Ph.D. from Temple University in 1991. His research interest includes Buddhist philosophy (Buddhist logic and epistemology, Mādhyamika, Yogācāra), Chinese philosophy (Neo-Confucianism, Daoism), and comparative philosophy.
林鎮國,政治大學哲學系特聘教授,美國天普大學博士。專長:佛教哲學、中國哲學。曾任哲學系主任;政治大學資深優良教師;榮獲國科會獎勵特殊優秀人才、傑出研究及甲種研究獎勵;擔任香港中文大學及北京大學等編輯委員。