Speaker: Ying Wang 王穎 (Tongji University, College of Architecture and Urban Planning)
When: 1 pm–3 pm, Wednesday, July 31, 2019
Venue: Harvard University, Sackler Building 427
About the Speaker: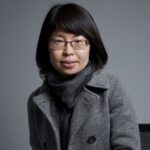 Ying Wang obtained her Ph.D. in architecture from the University of Leuven in Belgium, focusing on the shifting understandings of style in twentieth-century architectural discourse in China. She spent the 2015/2016 academic year at MIT's School of Architecture and Planning as a visiting researcher. Her study makes a comparison between China and the West in terms of the theory and historiography of architecture, and seeks to relocate twentieth-century Chinese architectural discourses in a global context. She published her book The Search for a Chinese Style: The Conception of Style in Early Modern Chinese Architecture (探求一種"中國式樣":早期現代中國建築中的風格觀念, 2015) and the article "Transferring Postmodernism to China: A Productive Misunderstanding" (2019) in Architectural Theory Review. She has also published in the journals The Architects (Beijing) and Time and Architecture (Shanghai). During her stay at the Harvard-Yenching Institute, she is working on an anthology of architectural literature in twentieth-century China.
See the original event posting here.
Download the lecture series poster here.