We are pleased to announce the following Collaborative Project between Harvard University and Nan Shufang: "Peony Pavilion".
Date: Prototype launch September 6, 2019
Venue: Nan Shufang, Shanghai
Organizers: Chenchen Lu, Lead Designer and Ph.D. candidate at Harvard University  
Peony Pavilion is an immersive art installation and "object play" based on the tragicomedy romance written by Tang Xianxu in 1598. It combines architecture, theatre, and material culture to explore the philosophical connections between dreams, reality and illusion. The installation, produced in collaboration with the cultural and exhibition space Nan Shufang in Shanghai.
In the play "Peony Pavilion," a young girl falls asleep in a garden in the waning days of the Southern Song Dynasty. In her dream, she begins a passionate romance that, in waking life, becomes an obsession that ultimately consumes her. Dream and fact, the image and the real, become fatally entangled: she leaves her self-portrait in a garden, to be picked up, impossibly, by the lover she met in her dream. 
Conjuring the imaginary world of The Peony Pavilion, this immersive exhibition, or "object play," creates a sequence of spaces in which projected images, architectural components, and objects create a world that straddles reality and illusion. The exhibition is also a re-examination of the close relationship between Chinese theatre and the vernacular architecture of the Ming and Qing dynasties. Covered with wood carvings of scenes from traditional dramas, Chinese vernacular houses become a medium that blurs the boundary between theatre and life. Drawing upon this historical interaction between architecture and theatre, the exhibition embeds the narrative of The Peony Pavilion into a deconstructed vernacular house, inviting visitors into the imaginary dimension of Chinese architecture.
About the Organizer:
Chenchen Lu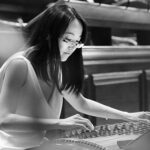 received her Bachelor of Architecture with honors from Tsinghua University and Master of Architecture from Harvard GSD. She worked as an architect in Zaha Hadid Architects and Teamminus Atelier. In 2015, Chenchen entered the Ph.D. program of History of Art and Architecture at Harvard University. She specializes in the Buddhist art and architecture of Medieval China, focusing on the visual culture of meditation. Combining her backgrounds in design and art history, she is currently working on the integration of new media technology and academic research.