We are pleased to announce the launch of CAMLab Production: "Peony Pavilion | 牡丹亭", an immersive architectural installation.
Public reception: Friday, Sept 20th, 4–8pm
Venue: Harvard University, The Annex, Arthur M. Sackler Building, First Floor. 485 Broadway, Cambridge MA
Tours will be offered every half hour from 4–7:30pm on a first-come, first-served basis. Register here 
Exhibition dates: Sept 19th–26th
In the play "Peony Pavilion," a tragicomic romance written by Tang Xianxu in 1598, a young girl falls asleep in a garden in the waning days of the Southern Song Dynasty. In her dream, she begins a passionate romance that, in waking life, becomes an obsession that ultimately consumes her. Dream and fact, the image and the real, become fatally entangled: she leaves her self-portrait in a garden, to be picked up, impossibly, by the lover she met in her dream.
Conjuring the imaginary world of The Peony Pavilion, this immersive exhibition, or "object play," creates a sequence of spaces in which projected images, architectural components, and objects create a world that straddles reality and illusion. The exhibition is also a re-examination of the close relationship between Chinese theater and the vernacular architecture of the Ming and Qing dynasties. Covered with wood carvings of scenes from traditional dramas, Chinese vernacular houses become a medium that blurs the boundary between theater and life. Drawing upon this historical interaction between architecture and theater, the exhibition embeds the narrative of The Peony Pavilion into a deconstructed vernacular house, inviting visitors into the imaginary dimension of Chinese architecture.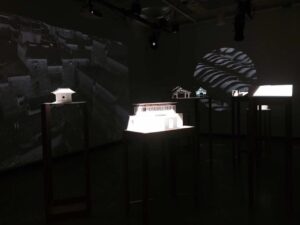 See a preview of the installation here.
About CAMLab
At the intersection of humanistic inquiry and design thinking, CAMLab is an incubator for creative innovation, a base for multimedia experimentation, and a platform for curatorial activities. By translating research concepts into studio practice—which, in turn, drives new research initiatives—CAMLab explores innovative ways of showcasing Chinese art and culture through immersive installations, exhibitions, films, digital publications, curatorial projects, and other multimedia forms. For more information, visit our website and Instagram.